Tiramisu
with Italian Espresso
THE RECIPE
INGREDIENTS:
1 lb Mascarpone
1/3 cup Sugar
1/8 tsp Salt
1 tbsp Instant Espresso Powder
1 pack Ladyfingers (12)
1 tbsp Cocoa powder
ABOUT THE RECIPE:
This no-fail "pick-me-up" dessert layers espresso-soaked ladyfingers and creamy mascarpone. Topped with cocoa, it's an aromatic finish to an Italian menu.
DID YOU KNOW?
Tiramisu hasn't been around as long as its popularity suggests. It was only invented in the 1960s, in Italy near Venice. The original recipe contains no liquor, so we're keeping it classic.
FOR ADULTS ONLY
For a grown-up version of this Italian treat, add 1 to 2 ounces of a sweet spirit to your espresso sugar mixture. Use dessert wines, flavored liquors, rum or brandy.
BAKING ADVICE:
BAKING HACKS

If you don't have a sieve at home, poke holes through the plastic bag of cocoa. Gently shake it over the tiramisu to decorate.
BAKING PAN ADVICE

Not sure what type of baking dish to use? Try to place half the ladyfingers on the bottom of a dish; if they fit with little room to spare, you're set!
YOUR INGREDIENTS
STEP 1
Wow, you've got some beautiful ingredients! Once you've unpacked your Red Velvet kit, bring mascarpone and eggs to room temperature. In two small bowls, separate 4 eggs into whites and yolks and set aside.
STEP 2
In a small bowl, beat mascarpone until soft with a large spoon. Remove 1 tablespoon from sugar and reserve for later use. In a separate medium bowl, using an electric mixer, beat the egg yolks with the remaining sugar until the mixture is pale yellow and fluffy. Gradually beat in the softened mascarpone.
STEP 3
In a medium bowl, using an electric mixer, beat the egg whites with salt until they form stiff peaks. Using a spatula, fold egg whites into mascarpone mixture, by slowly mixing together the light and heavy ingredients. Gently "cut" through the center of both mixtures, bring the heavy mascarpone mixture to the top, and the light egg whites to the bottom. Use a "down-across-up-and-over" motion to do this, ensuring mixtures are incorporated without adding air bubbles.
STEP 4
Boil 1/2 cup water; pour over instant espresso powder in a heatproof bowl. Add reserved tablespoon of sugar to coffee and mix; set aside. Line 1 large serving dish (or 6 to 8 individual ones) with the ladyfingers, covering as much surface area as possible.
STEP 5
Sprinkle 2/3 of the brewed espresso over ladyfingers so they are moist and saturated. Cover with half the egg mixture. Make another layer of ladyfingers, moisten with remaining 1/3 espresso liquid and cover with remaining egg mixture. Chill for at least 1 hour.
STEP 6
When ready to serve, remove from fridge, and using a sieve, sprinkle evenly with cocoa powder to coat the top of the dish lightly.
order this recipe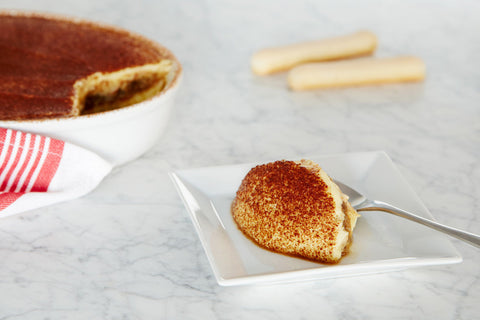 $ 28
Level: Moderate
SEE ALL THE DESSERTS
add the tools you'll need