Red Velvet Cupcakes
with cream cheese frosting
THE RECIPE
INGREDIENTS:
2 cups Cake flour
1/8 cup Dutch process cocoa
1 tsp Salt
1 1/4 tsp Baking soda
1 1/2 Tbsp Distilled white vinegar
1 1/4 cups Granulated Sugar
8 oz Vegetable oil
1 tsp Red gel-paste food coloring
1 tsp Vanilla Extract
6 oz Buttermilk
For frosting:
4 tbsp Butter
8 oz Cream Cheese
2 cups Confectioner's Sugar
Provided:
Plastic Piping Bag
Cupcake Cups (18)
ABOUT THE RECIPE:
Our namesake dessert is a New York classic that pairs rich cocoa cakes with cream cheese frosting.
DID YOU KNOW?
Red Velvet cake dates to World War II, when bakers used boiled beet juices to enhance the color of their baked goods. The Waldorf-Astoria Hotel came up with the original recipe, topping a beet-chocolate cake with tangy cream cheese. But it was a Texas food-dye company, run by John A. Adams, that popularized it. After tasting the Waldorf-Astoria cake, Adams realized that he could sell more dyes by marketing a red cake. It quickly became a favorite of home cooks nationwide. [Sources: NYT and Waldorf]
BAKING ADVICE:
BAKING HACKS

Back in the day all recipes were done by hand, so it's fine if you don't have an electric mixer. (We're big fans of wooden spoons and whisks.) It will take a bit more time, but you get a nice arm workout!
An ice-cream scoop helps to distribute batter evenly into baking cups.
BAKING PAN ADVICE

No need for a cupcake pan for this one! Our decorative paper cups are oven- and freezer-safe. Biodegradable and eco-friendly, they're great for gifts and parties.
YOUR INGREDIENTS
STEP 1
You've got some gorgeous ingredients! Once you've unpacked your kit, preheat your oven to 350°F. Line up 18 cupcake cups. In a medium bowl, whisk together cake flour, cocoa, and salt. In a small bowl, mix baking soda and vinegar (it will bubble and foam!) and set aside.
STEP 2
In a large bowl, using an electric mixer on medium speed, beat sugar and oil until combined. Add eggs, scraping down sides to incorporate fully. Mix in red food coloring and half
 of the vanilla extract. Reduce speed to low. Add flour mixture and buttermilk, alternating both in small batches, until fully mixed.
STEP 3
Add the baking soda and vinegar mixture to the batter, and mix on medium speed for 10 seconds. Divide the batter evenly among cupcake cups, filling each three-quarters full. Place on a baking sheet.
STEP 4
Bake in the middle of the oven for 18 to 20 minutes. Cakes are done when a toothpick inserted in the center comes out clean. Transfer pan to wire rack and cool completely. Bring butter and cream cheese to room temperature.
STEP 5
Sift the confectioner's sugar over a bowl and set aside. In a medium bowl, beat butter and cream cheese with a mixer on medium-high speed until fluffy, 2 to 3 minutes. Reduce speed to low. Add confectioner's sugar, in two batches, then remaining vanilla extract, and mix until smooth.
STEP 6
Frost cooled cupcakes using piping bag provided. To fill the bag, fold over the top to form a cuff, scoop in frosting, then unfold and twist to push frosting down, releasing any air bubbles. Using both hands, apply downward pressure to the frosting and follow a circular motion. Start on the outside of the cupcake and work your way in.
order this recipe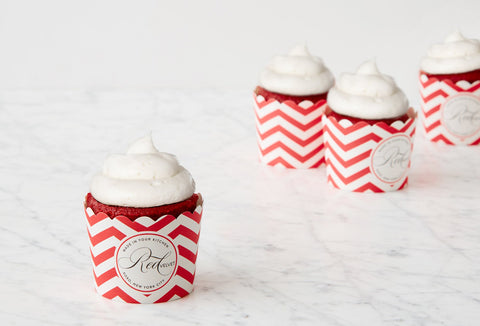 with Cream cheese Frosting (18)
$ 32
Level: Easy
SEE ALL THE DESSERTS
add the tools you'll need