Pistachio Loaf Cake
with Lemon Glaze
THE RECIPE
INGREDIENTS:
For cake:
3/4 cup Pistachios
3.75 oz Vegetable Oil
1 Lemon
8 oz Milk
1 cup Granulated Sugar
1 tsp Vanilla Extract
1 3/4 cup Cake Flour
1 tsp Baking Powder
1/2 tsp Baking Soda
1 tsp Salt
For glaze:
1 cup Confectioner's Sugar
ABOUT THE RECIPE:
This loaf cake marries lemon and pistachio for a warm, nutty flavor that pairs beautifully with tea.
BAKING ADVICE:
A food processor is great for chopping nuts. If you have one, pulse your pistachios until they are finely ground, but stop before they become a paste.
If you glaze your cake on a serving dish, tuck strips of wax paper beneath the edges to keep the plate clean, then remove when set. You can also glaze it on the wire rack with paper underneath and let the excess drip off.
This cake tastes best within a day or two of baking, but you can store it in an airtight container at room temperature for up to 5 days.
YOUR INGREDIENTS
STEP 1
Wow, you've got some beautiful ingredients! Once you've unpacked your Red Velvet kit, preheat oven to 350°F. Take out 2 eggs from your refrigerator. Using a cutting board and a sharp knife, finely chop pistachios and set aside. Grease a 9"x5" loaf pan with a few drops of vegetable oil provided.
STEP 2
Using a zester or microplane grater, zest the rind of the lemon into a small bowl, being careful to avoid the white pith. Cut the lemon in half and squeeze over a small bowl to make 1/4 cup of juice. In a medium bowl, reserve 2 tablespoons of juice for the glaze in step 6. Add milk to the original bowl of lemon juice; this will make buttermilk in a few minutes (and milk will look curdled).
STEP 3
In a medium bowl, whisk together the vegetable oil and granulated sugar. Beat in the eggs, then add the lemon zest, vanilla extract, and buttermilk. Mix until just combined.
STEP 4
In a large bowl, whisk together flour, baking powder, baking soda, salt, and pistachios. Using a spatula, add the oil-sugar-egg mixture to the flour-pistachio mixture and gently fold until combined, being careful not to overmix.
STEP 5
Pour into greased loaf pan and bake for 55 to 60 minutes, or until the edges are golden brown and a toothpick inserted in the center comes out clean. The loaf will spring back when lightly touched. Remove from oven and let cool in the pan for 20 minutes. Run a knife around the edge and invert the pan to remove the loaf. Cool completely on a wire rack.
STEP 6
Make the glaze. Add confectioner's sugar to the reserved lemon juice. Whisk in slowly until completely smooth and thick (you may not need it all). It should be pourable, with a similar consistency to honey. Pour the mixture over the loaf and let set. Enjoy with your favorite cup of tea!
order this recipe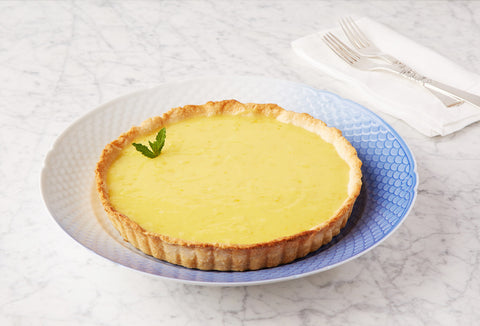 $ 28
Level: Advanced
SEE ALL THE DESSERTS
add the tools you'll need