Molten Chocolate Cake
with Lava Center
THE RECIPE
INGREDIENTS:
8 tbsp Butter
1/8 cup Flour
6 oz Bittersweet chocolate
1/3 cup Granulated Sugar
1/8 tsp Salt
1/4 cup Confectioner's Sugar
ABOUT THE RECIPE:
INGREDIENT HIGHLIGHT
These cakes are so delicate and rich that we refuse to use anything but Valrhona chocolate for this recipe. With 70% cocoa, this chocolate unveils flowery notes and an intense flavor that is exceptionally long-lingering.
BAKING ADVICE:
BAKING TOOL ALTERNATIVES

No microwave? No problem. Put the chocolate and butter in a metal bowl over a saucepan of boiling water. They'll melt quickly, so be careful not to burn the mixture--or yourself!
BAKING PAN ADVICE

Generously butter and flour the ramekins. This is crucial to making your cakes slide out easily. If you use a different sized ramekin, be sure to adjust the baking time accordingly.
When inverting the ramekin onto the plate, hold it tightly so that it doesn't slip!
SERVING VARIATION
Not sure you're ready to invert each cake onto a plate? By serving this lava cake in its ramekin, you won't have to worry about whether it will unmold properly. Be very careful if you decide to serve it this way as this ramekin will be very hot!
YOUR INGREDIENTS
STEP 1
Wow, you've got some beautiful ingredients! Once you've unpacked your Red Velvet kit, preheat the oven to 450°F. In two small bowls, separate 2 eggs into whites and yolks; set aside whites (use them for another culinary adventure or whip up an egg white omelette!). Save 2 whole eggs for use in step 4.
STEP 2
Butter and lightly flour four 6-ounce ramekins using 1 tablespoon or less of butter provided by using your finger to spread a thin layer of butter on the bottom and sides. Then place 1 tablespoon of flour (from flour provided) in the first ramekin. Shake and rotate to distribute flour; tap out the excess into next ramekin. Continue until all surfaces are lightly covered. Set on a baking sheet.
STEP 3
In a heatproof bowl (like Pyrex® or porcelain), melt the remaining butter with the chocolate in the microwave for 1 to 2 minutes in 30-second increments on a low-medium setting, until smooth and consistent. Be careful not to burn the mixture. (You can also do this in a double boiler, over simmering water.) Set aside.
STEP 4
In a medium bowl, beat the remaining 2 whole eggs with the egg yolks, sugar, and salt at high speed with an electric mixer or whisk until thickened and pale. Whisk in the melted chocolate until smooth. Then fold the flour into the mixture. Be sure not to over-stir.
STEP 5
Spoon the batter into the prepared ramekins. Bake for 9 to 12 minutes, or until the outer edge of the cakes have firmed. They will no longer look glossy or soft, however the centers still should. During baking, avoid opening the oven too many times!
STEP 6
Remove baking sheet from oven and let the cakes cool in the ramekins for 1 minute; then cover each with an inverted dessert plate. Carefully turn each one over (using a pot holder or oven mitt), let stand for 10 seconds, and then gently lift the ramekin off the inverted cake. Using a sieve, carefully sift each cake with confectioner's sugar. Serve immediately.
order this recipe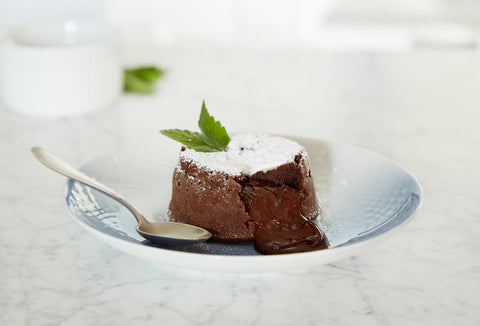 $ 28
Level: Advanced
SEE ALL THE DESSERTS
add the tools you'll need