Lemon Mousse
with Whipped Cream
THE RECIPE
INGREDIENTS:
4 Lemons
8 tbsp Butter
1 1/2 cups Sugar
1/8 tsp Salt
8 oz Heavy Cream
1 tsp Vanilla Extract
ABOUT THE RECIPE:
Light and elegant, lemon mousse is a perfect dessert for entertaining. You can serve it in any small cup or bowl.
BAKING ADVICE:
Lemon curd usually takes at least 10 minutes to thicken. To check for doneness, coat the back of a wooden spoon with curd and run your finger through it. If your track stays clean, it's done. If curd drips into it, give it another two minutes.
Not sure what to use for serving cups? Whatever you have around! We love using small mason jars, ramekins, and teacups.
Refrigerate for up to 3 days if not eating right away.
YOUR INGREDIENTS
STEP 1
Wow, you've got some beautiful ingredients! Once you've unpacked your Red Velvet kit, take 4 eggs out of your refrigerator. Using a vegetable peeler or zester, remove the rind of the lemons, avoiding the white pith. Mince rind so that the pieces resemble tiny beads.
STEP 2
Save about 2 tablespoons of the rind for garnish in step 6. Then, squeeze the same lemons into a small bowl to make 1/2 cup of juice and set aside.
STEP 3
In a medium bowl, use an electric mixer to cream butter and sugar with lemon rind. Add 4 eggs, one at a time; add lemon juice and salt. Mix until combined.
STEP 4
Pour the mixture into a large saucepan and cook over medium-low heat, stirring constantly, until thickened, about 10 to 15 minutes. The lemon curd will thicken just before it simmers (about 175°F on a candy thermometer). To test for doneness, coat the back of a wooden spoon with the curd, and run a finger through it. If no curd runs into the track you've created with your finger, it's done. Remove from the heat and let cool to room temperature (about 30 minutes).
STEP 5
Once curd has cooled to room temperature, cover with plastic wrap and chill in the fridge for 1 hour. When the curd is chilled, finish the assembly. In a large bowl, using an electric mixer, whip the heavy cream and vanilla until stiff peaks form. With a spatula, gently fold about 2/3 of the whipped cream into the lemon curd using a down-across-up-and-over motion. Save the rest of the whipped cream for the next step.
STEP 6
Prepare six to eight 4-6 ounce serving cups. Divide lemon mousse batter evenly into cups. Top each serving with the remaining whipped cream and decorate with the remaining rind. Refrigerate unless serving right away.
order this recipe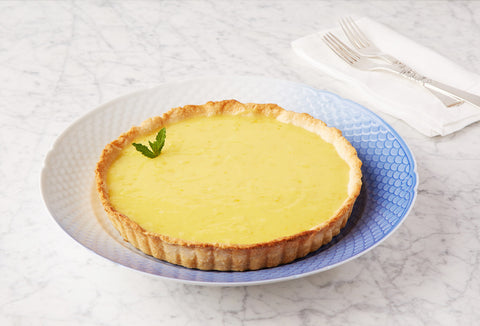 $ 28
Level: Advanced
SEE ALL THE DESSERTS
add the tools you'll need