Lemon Crinkle Cookies
with Confectioner's Sugar
THE RECIPE
INGREDIENTS:
For loaf:
1 Lemon
1 cup Granulated Sugar
2 ounces Vegetable Oil
1/2 tsp Vanilla Extract
1 1/2 cup Flour
1 tsp Baking Powder
1/2 tsp Salt
1 1/4 cup Confectioner's Sugar
ABOUT THE RECIPE:
Fresh lemon zest brings a little zing to these dainty treats, which are rolled in sugar to make a crinkly crust.
BAKING ADVICE:
Don't have a zester? Peel the rind off the lemon in 1" strips and dice into fine beads.
Did you know? Crinkle cookies have crackles on top, with powdered sugar in between each nook and cranny. Since they are rolled in confectioner's sugar before they're baked, the cracks form as the cookies puff and spread.
YOUR INGREDIENTS
STEP 1
Wow, you've got some beautiful ingredients! Once you've unpacked your Red Velvet kit, wash the lemon, then zest and juice it. Zest as much rind as possible, avoiding too much of the white pith. Cut in half and juice it into a small bowl.
STEP 2
In a large bowl, whisk together the granulated sugar, vegetable oil, vanilla extract, and the egg. Stir the zest and juice in and mix until combined.
STEP 3
Whisk in the flour, baking powder, and salt until the dough comes together and a ball of dough is formed. Cover with plastic wrap and chill in the refrigerator for at least one hour, or overnight.
STEP 4
Preheat oven to 350°F. Roll into about 20 balls the size of a golf ball.
STEP 5
Line a baking sheet (or two) with the parchment paper provided. Place confectioner's sugar in a small bowl and roll cookies in sugar until well coated. Place on a baking sheet at least 2" apart (cookies will spread as they bake!).
STEP 6
Bake for 12 to 14 minutes, until edges begin to brown. Place cookies on a wire rack and let cool completely. Peel cookies from baking sheet carefully. Enjoy with tea or coffee!
order this recipe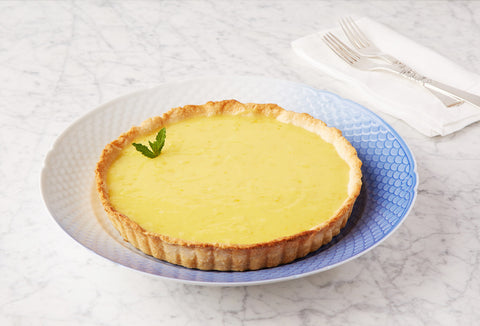 $ 28
Level: Advanced
SEE ALL THE DESSERTS
add the tools you'll need