Earl Gray Tea Cake
with Infused Glaze
THE RECIPE
INGREDIENTS:
For cake:
8 oz Heavy Cream
2 Earl Grey Tea Sachets
1 cup Granulated Sugar
1/4 cup Brown Sugar
3 oz Vegetable Oil
1 tsp Vanilla Extract
1 1/2 cup Cake Flour
1 1/2 tsp Baking Powder
1/2 tsp Salt
For glaze:
1 1/4 cups Confectioner's Sugar
From your pantry: 
2 Eggs
A few drops of oil/ Pad of butter
ABOUT THE RECIPE:
Infused with Earl Grey tea, this elegant loaf cake has a delicate aroma of bergamot.
BAKING ADVICE:
Back in the day all recipes were done by hand, so it's fine if you don't have an electric mixer. It will take a bit more time, but you get a nice arm workout!
Tea takes a while to steep in thick liquids like heavy cream. Be patient and yes—it's ok if your tea sachet breaks! You can always strain the mixture through a sieve if you don't want tea leaves in your batter.
Earl Grey is one of the most popular teas in the world. Quintessentially British, it is a black tea flavored with oil from the rind of bergamot orange, a citrus fruit native to the Mediterranean.
YOUR INGREDIENTS
STEP 1
Wow, you've got some beautiful ingredients! Pour the heavy cream into a microwave-safe bowl. Microwave for 60 to 90 seconds, until cream is steaming. In a small bowl, add 1 to 2 tablespoons of warm water. Dip both tea bags in the water until they start to steep. Pour water and tea bags into the warm cream and let steep for at least 30 minutes. Every few minutes, stir and press the tea bags with a spoon to help them infuse the tea. The cream will turn a rosy beige. Set aside 2 tablespoons for the glaze (step 6) in a medium bowl.
STEP 2
Remove 2 eggs from your refrigerator. Preheat oven to 350°F.
 In a large bowl, using an electric mixer, beat granulated sugar, brown sugar, vanilla extract, and eggs. Drizzle in the vegetable oil and beat for 5 minutes until pale and thick.
STEP 3
In a medium bowl, sift together the cake flour, baking powder, and salt. Fold into the egg-sugar mixture with a spatula, using an up-across-over-down motion. Do this carefully to ensure you don't deflate the air in the batter. Remove the tea bags from the heavy cream. Pour the cream into the batter and carefully fold it in so the batter stays airy.
STEP 4
Lightly grease a loaf pan with oil or butter from home. Slowly pour in the batter. Bake for 48 to 52 minutes, until a toothpick inserted in the center comes out clean. The edges will brown much faster than the center.
STEP 5
Remove cake from the oven and let cool for a few minutes in the pan, then invert onto a wire cooling rack. Let sit for 30 minutes, or until cool to the touch.
STEP 6
Make the glaze. Gradually add the confectioner's sugar to the 2 tablespoons of reserved infused cream. Add sugar one scoop at a time until the mixture is thick yet pourable and resembles honey (you may not need all of the sugar). Beat the mixture with a whisk, removing any clumps. Pour glaze over the cake on the wire rack (you can catch drips on a piece of wax paper below), or plate it on your serving dish before glazing. Slice and serve with tea!
order this recipe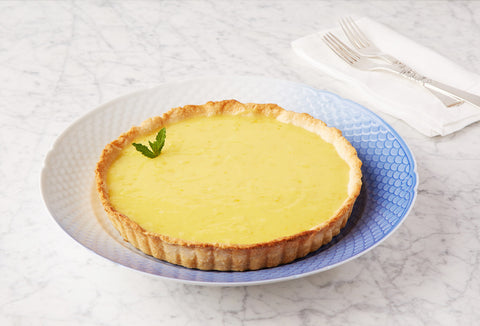 $ 28
Level: Advanced
SEE ALL THE DESSERTS
add the tools you'll need