Chocolate Pecan Torte
with Chocolate Glaze
THE RECIPE
INGREDIENTS:
For Torte:
10 tbsp Butter
1/2 cup Pecan halves (24 pieces)
7 oz Bittersweet chocolate
1/2 cup Confectioner's sugar
1 tsp Vanilla extract
1 cup Pecan flour
1 tsp Cinnamon
For glaze:
4 oz Bittersweet chocolate
4 tbsp Butter
2 tbsp Honey
Provided:
8" Parchment paper round
Parchment paper sheet
ABOUT THE RECIPE:
Enrobed in a silky glaze, this rich dessert combines pecans and dark chocolate, with a toasted undertone. It's perfect for holiday baking and looks impressive on a buffet table.
GLUTEN FREE! 

This dessert has no flour, these custards are 100% gluten free--but still plenty indulgent.
BAKING ADVICE:
BAKING HACKS

If the glaze starts to harden before you've covered the entire cake, microwave for 15 to 30 seconds to get it soft again. It will be much easier to work with!
Don't have a wire rack? Use a baking sheet or flat surface and cover with aluminum foil to minimize the mess.
YOUR INGREDIENTS
STEP 1
Wow, you've got some beautiful ingredients! Once you've unpacked your Red Velvet kit, pre-heat oven to 300°F. Using 1 tablespoon or less of butter provided, butter an 8-inch springform (or standard) cake pan; line with parchment paper and butter the paper.
STEP 2
Spread the pecan halves on a baking sheet. Bake pecan halves 5 to 7 minutes until lightly toasted. Let cool.
STEP 3
In a microwave-safe bowl, melt chocolate and butter (for cake) on medium-low heat for 1 to 2 minutes, stirring at 30-second increments. Be careful not to overheat and burn the chocolate!
STEP 4
In a medium bowl, use an electric mixer to beat the eggs, confectioner's sugar, and vanilla extract until frothy, 1 to 2 minutes. Stir in melted chocolate, pecan flour, and cinnamon. Pour into prepared pan. Bake for 30 minutes, until edge of cake is set but center is slightly soft. Set aside to cool.
STEP 5
In a small saucepan over low heat, melt chocolate and butter (for glaze), and add honey, stirring until smooth. Remove from heat. Carefully dip half the pecan halves into chocolate mixture and place on a sheet of waxed paper to cool on a wire rack.
STEP 6
Remove sides of springform pan (if using) and invert cake onto a wire rack. Remove pan bottom and paper, so bottom of cake is now the top. Pour remaining thickened glaze over the cake and tilt if necessary to spread the glaze. Use a spatula (preferably metal) to smooth over the sides. Decorate outside edges of torte with pecan halves. Let glaze set for 1 hour at room temperature.
order this recipe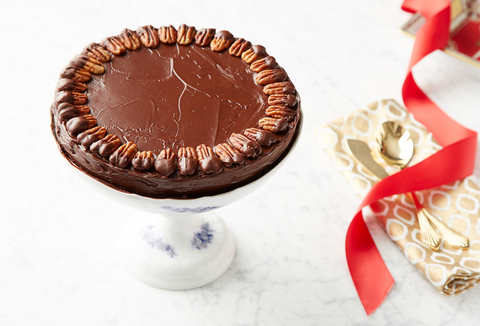 $ 32
Level: Moderate
SEE ALL THE DESSERTS
add the tools you'll need