Candy Cane Cupcakes
with peppermint frosting and candy cane sprinkles
THE RECIPE
INGREDIENTS:
For cupcakes:
8 tbsp Butter
1/2 cup Dutch-process cocoa powder
1 2/3 cup Cake flour
1 tsp Baking powder
1 tsp Baking soda
1 tsp Salt
1 1/4 cup Sugar
6oz Buttermilk
For frosting:
16 tbsp Butter
3 cups Confectioner's Sugar
1/2 tsp Peppermint Extract
Provided:
Piping bag
Cupcake cups (24)
ABOUT RECIPE:
Featuring peppermint buttercream frosting and candy cane sprinkles atop a rich dark chocolate cake, these delicious and festive cupcakes are sure to make your holiday season merry and bright.
BAKING ADVICE:
BAKING HACKS

Cupcakes taste best within a day or two of baking, but you can store the cakes and icing separately in the refrigerator for up to three days.
BAKING PAN ADVICE

No need for a cupcake pan for this one! Our decorative paper cups are oven - and freezer - safe. Biodegradable and eco-friendly, they're great for gifts and parties.
YOUR RED VELVET KIT
STEP 1
Wow, you've got some beautiful ingredients! Once you've unpacked your Red Velvet kit, preheat the oven to 375°F. Bring butter to room temperature. Line up 24 cupcake cups. Over high heat, boil ½ cup water in a small saucepan.
STEP 2
In a medium bowl, mix cocoa powder with boiling water until smooth. Cool by placing in refrigerator. Whisk together the cake flour, baking powder, baking soda, and salt in another medium bowl. Set aside.
STEP 3
In a large bowl, using an electric mixer, cream the softened butter (for cakes) and sugar until light and fluffy. Add eggs one at a time, beating until smooth. Scrape down the sides of the bowl. Alternate adding the flour mixture and buttermilk, beating until *just* combined. Slowly pour in cooled cocoa mixture and stir until smooth.
STEP 4
Divide the batter evenly among cupcake cups, filling each two-thirds full. Place on a baking sheet and bake for 15 to 19 minutes, or until a toothpick inserted in the center comes out clean. Remove from oven and allow to cool for 30 minutes on a wire rack. (Frosting will melt if cupcakes are not completely cooled!)
STEP 5
Sift confectioner's sugar over a bowl and set aside. In a medium bowl, using an electric mixer on medium speed, beat butter (for frosting) until pale and creamy, 2 to 3 minutes. Gradually add confectioner's sugar and peppermint extract, beating on medium speed until fully incorporated.
STEP 6
Frost cooled cupcakes using piping bag provided. To fill the bag, fold over the top to form a cuff, scoop in frosting, then unfold and twist to push frosting down, releasing any air bubbles. Follow a circular motion by starting from the outside and working inwards with frosting. Sprinkle with mini candy canes and be merry!
order this recipe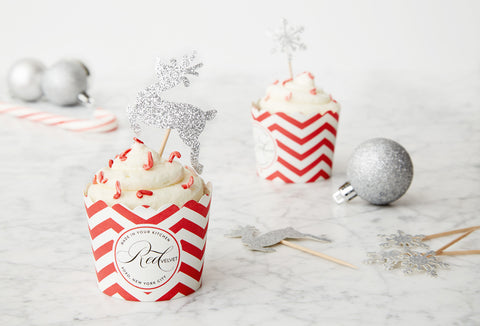 $ 34
Level: Easy
SEE ALL THE DESSERTS
add the tools you'll need